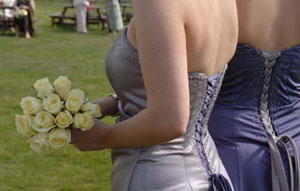 Different styles of Photography- for Different couples.


There are several different styles of photography, and Huw Thomas Photography tries to encompass all the styles in your Wedding images, based on your preferences.

With a variety of photographs, tayloring your package to meet your requirements, highlights the need and importance of the pre-wedding meeting when we can discuss your ideas,and your preferences fully, to ensure you are getting what you desire.



Traditional Photography...


Traditional wedding photography involves artfully posed photographs of individuals or groups. It produces the traditional and classic look that is often framed for display. It also provides a record of the family gathering to celebrate the day.

The amount of time attributed to photographing the traditional pictures is entirely up to the couple and their chosen package. What we endeavour to do is to complete the formal part of the photography as quickly and efficiently as possible, so that it does not intrude unnecessarily upon the occasion. As there are many different requirements dependant on the type and size of the occasion, its advisable to make a list of what setups your require. We then ask that one of the groom's men to assist us in gathering the people when required.



Contemporary Photography.....


Contemporary wedding photography captures all the unforgetable moments of your wedding day - the walk down the aisle, the ring exchange, the wedding kiss, the signing of the register, the cutting of the cake, amongst others.Special attention is given at these times to make sure they are captured with a variety of photos.

Contemporary wedding photography is blended with our other styles of wedding photography to give you stunning coverage of your special day with very special photos.



Reportage Photography...


Photographs are un-posed and typically captured without the subject being aware, producing natural and emotive images. Reportage wedding photography is a contemporary more relaxed style than traditional wedding photography similar to having snap shots of the day. The 'Reportage' style of wedding photography grew out of the journalistic style, 'photo journalism' and has fast become the most new approach to modern wedding photography.

Rather than staging events to photograph, reportage wedding photography captures the day as it unfolds with the photographer remaining as an onlooker rather than directing the proceedings. The way in which the wedding is captured, without intereference, makes reportage wedding photography popular. Reportage wedding photography is blended with our other styles of wedding photography to give you varied coverage. Our approach is unobtrusive and naturalistic, capturing your day with flair and originality.