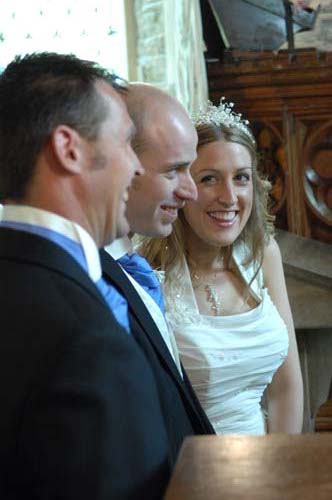 Some useful things to remember when choosing your photographer.....






Ask Questions...


Of all of the people that you hire to make your day special, your photographer is the one that you will interact with the most before and after your wedding as well as on the wedding day itself. It is important, that you connect with your photographer personally, he or she understands your vision of the Wedding day, and can document that vision in a way that you will appreciate for years to come.

Finding the right photographer for you should be a careful process and can be viewed as an investment for the future. After the day is over and the cake has been eaten, only your cherished photographs will be what remain. Take your time and ask lots of questions. Your photographer will be happy to address any concerns that you may have.



Feel comfortable.....


When choosing a wedding photographer, the most important thing to consider is personality. You will be spending many hours with your photographer, if you are comfortable with your photographer as a person, your photos will benefit greatly.



Check things out...


Make sure that photographers whom you meet with will: a) be the ones who actually shows up at your wedding; b) shows you real work (their own) from real weddings; c) have experience photographing weddings (a few friends weddings are not enough); d) you like the person well enough to be around them for several hours; e) Does they use Professional camera equipment, and how old is it- everything wears out eventually, but Professional Cameras and lenses are designed to work hard in all weather conditions. And ask to see it! -Remember, you get what you pay for and it will show.

Are they really in business, or is this just a weekend hobby? Do they have insurance, backup equipment, wear jeans or a suit. etc.? These are the real questions. Photography is a visual product. You've got to like the images and the photographer first, price has to come second. It can be no other way. Remember, you get what (and who) you pay for and it will show- Experience counts!.



Its your wedding- You Decide!!.


Remember to discuss with your photographer how much time you want to spend on posed pictures or on candid "alone" portraits with the couple. And remember: It's YOUR day and you should control how you want to spend it.



Relax and Enjoy.


Brides: Don't be afraid to laugh when the cameras are around. Memories will be enchanting when our cameras can capture your joy and emotions. Make your pictures reflect real life...its much more exciting



Avoid Dissappointment - Book Early


Consider booking your photographer as soon as you set your wedding date and location. This will assure you get an excellent photographer, the one that you want, before they are booked by someone else.